Making Homemade Wine Made Easy!
That's right... making homemade wine made easy. Making homemade wine is not as difficult as people might think.
Really all you need to do is to put the right ingredients together and sit back and watch what happens.
No grape stomping necessary...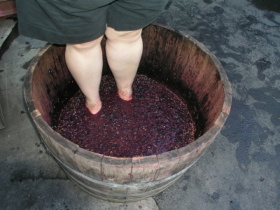 unless you want to...
Of course if you sit back for too long you might end up with vinegar... but there are lots of uses for vinegar now aren't there?
There are two ways you can go when you are trying to make wine at home.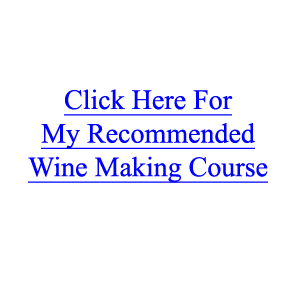 You can make homemade wine from a kit or you can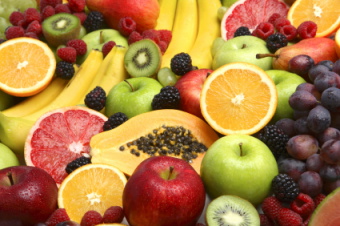 make your wine from fresh fruit or frozen fruit, fruit juice concentrate or as it turns out vegetables and other odd items as well. There is a separate section on each of these techniques.

It is very important to make sure that you have all of the proper wine making equipment and supplies available before you start. I speak from experience here. I have made a lovely jug of plum vinegar that had all the makings of a wonderfully fragrant and most decidedly tasty jug of plum wine. However... I did not have all of my bottling equipment when it came time to bottle things up. Things definitely took a turn for the worse before I was able to pull things together.

So... take a look at the section on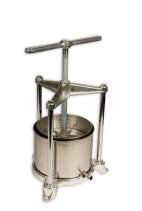 required wine making equipment . There is also a section on suggested wine making equipment on this page. Choose wisely young grasshopper.
If you get confused about some of the wine making terms please take a look at the glossary of terms. I have tried to include everything under the sun. But as you know... there is a lot of stuff under the sun... so... I did my best.
Also... I wanted to pass this bit of information on to you... I was not aware of this but apparently the United States federal regulations limit the amount of homemade wine you can make to 100 gallons for a 1 adult household and 200 gallons for 2 or more adults in the household. Plan your wine making endeavors accordingly...
Making Homemade Wine From Fruit Learn the basic steps involved in making wine using fruit
Making wine using a wine making kit Not sure that making wine from fruit is for you? No problem! Check out information on making wine a wine making kit.